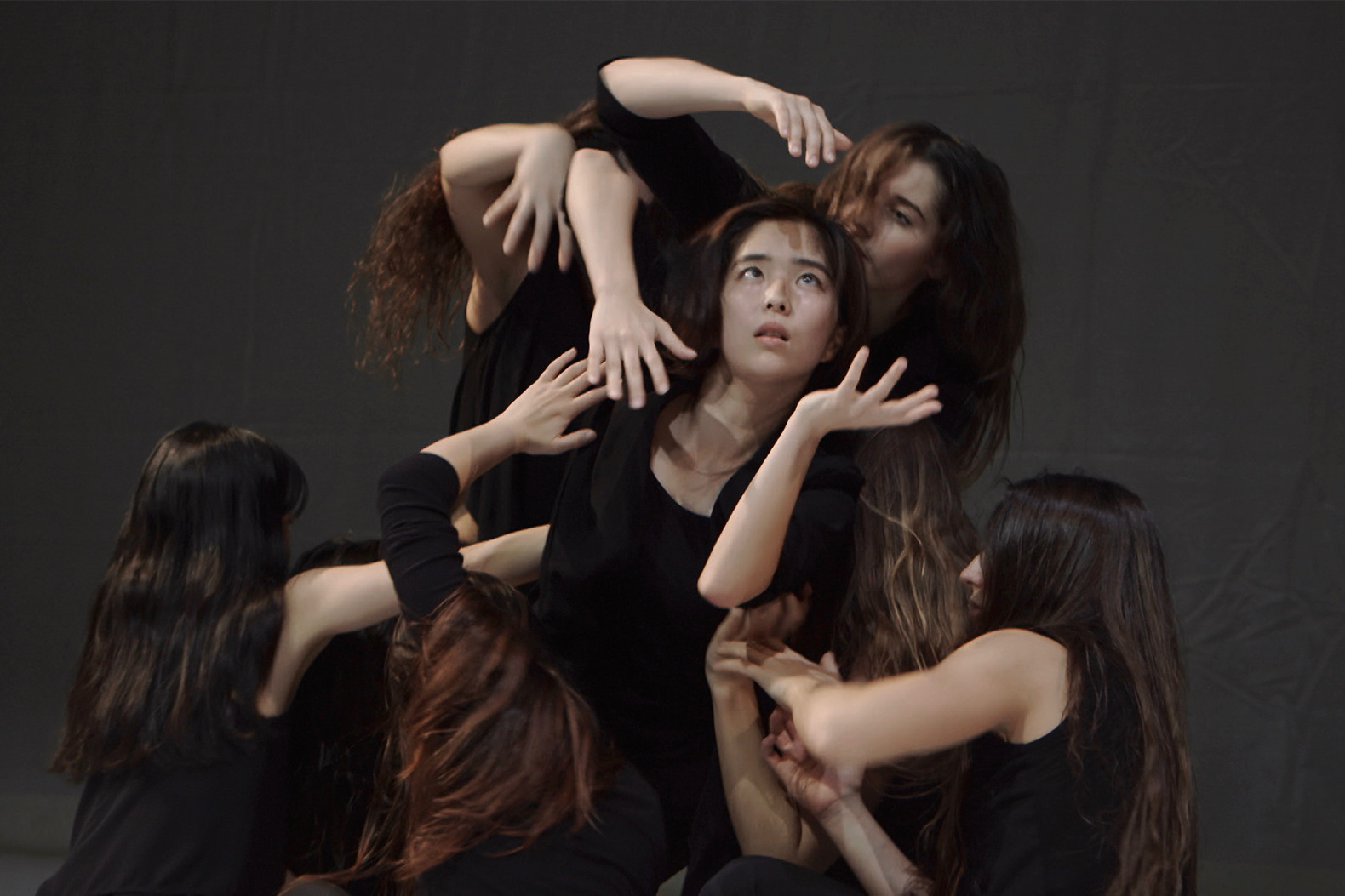 Übersinnliche Wesen, die aus rauchlosem Feuer erschaffen sind, auch bekannt als 'Djinn | Dschinn'. Der Begriff 'Djinn' leitet sich aus dem Arabischen ab und lässt sich mit den deutschen Synonymen 'Dämon' oder 'Geist' übersetzen. 'Dschunna', der Ursprung des Wortes 'Djinn' bedeutet besessen, wahnsinnig.
Der Glaube an die Existenz von Djinn macht einen großen Bestandteil des islamischen Glaubens aus, seine Relevanz für den Islam wird aber selbst in traditionalistischen Kreisen diskutiert und der Djinnglaube bewegt sich somit irgendwo zwischen Märchen, Aberglaube und Religion. Der im Islam und in der arabischen Mythologie bekannteste namenhafte Djinn heißt Iblis.
Im Gegensatz zu Engeln verfügen Djinn in der Mythologie über einen von Gott erstmalig vergebenen freien Geist. Dieser freie Geist entfernt sie nicht nur weiter von Gott, sondern sorgt auch für Unstimmigkeiten, welcher die Djinn zu Kriegen auf Erden veranlasst. Iblis jedoch sieht sich selbst nicht als Djinn, sondern als einen von Gott erschaffenen Engel und entscheidet mit seinem freien Geist, sich Gott und seinen Engeln anzuschließen. So gewinnt Iblis das Vertrauen Gottes, bis zu dem Tage, an dem Gott Adam erschafft, einen, der im Gegensatz zu den Djinn Frieden auf Erden bewahren kann. Da Iblis sich selbst als Herrscher und Beschützer der Welt sieht und die Erschaffung eines Menschen nicht gutheißt, bricht mit der Geburt Adams das Vertrauen zwischen Gott und Iblis und Iblis wird zusammen mit Adam aus dem Himmelreich auf die Erde entsandt. Bis zum heutigen Tage soll Iblis mit seiner Eifersucht und seinem Zorn auf Erden verweilen. Um zurück auf Gottes Ebene zu gelangen und seinen Platz als Herrscher einzunehmen, versucht Iblis, Besitz von allen Menschen, angefangen mit Adam, zu ergreifen, ihren Geist zu besetzen und sie in den Wahnsinn zu treiben.
Die Performerinnen und der Choreograf beschäftigen sich in 'Djinn – Under The Shadow' mit der Mythologie der Djinn, mit dem in den Wahnsinn getrieben werden, mit dem Kampf zwischen Besetzer und Besessenem. Dafür hat sich das Kollektiv seine eigene 'weiße' Plattform erschaffen, die die reine Erde reflektiert, die Basis, den unbefleckten Geist des Menschen, der vom Djinn besetzt wird.
Zackige und kraftvolle Bewegungen symbolisieren den Kampf zwischen Mensch und Übermenschlichem.
Ein abstrakter Szenenaufbau lässt die Darstellerinnen sowie die Zuschauer*innen den aufkommenden Wahnsinn verspüren. Nun, wer von uns ist so wahnsinnig, schlecht, hervorragend, gut gelaunt, oder irgendwo besessen?
Konzept, Choreografie und Ansprechpartner: Hakan Sonakalan
Gruppe 1 – Tänzerinnen: Sophia Otto, Momoe Kawamura, Elisa Spina, Ludovica Pinna, Narumi Saso, Pin-Chen Hsu, Francesca Pavesio, Leonie Türke
Gruppe 2 – Tänzerinnen: Sophia Otto, Stella Kolodzey, Elisa Spina, Lisa Grandmottet, Momoe Kawamura, Enora Gemin, Yurika Sophie Yamamoto
Musik, Komposition: Gavin Cullen – Djinn, Rania – Cycle of Life, maNga – Hos Geldin, Raime – Your Cast Will Tire
Dauer: 20~ Min.
Genre: Tanz, Performance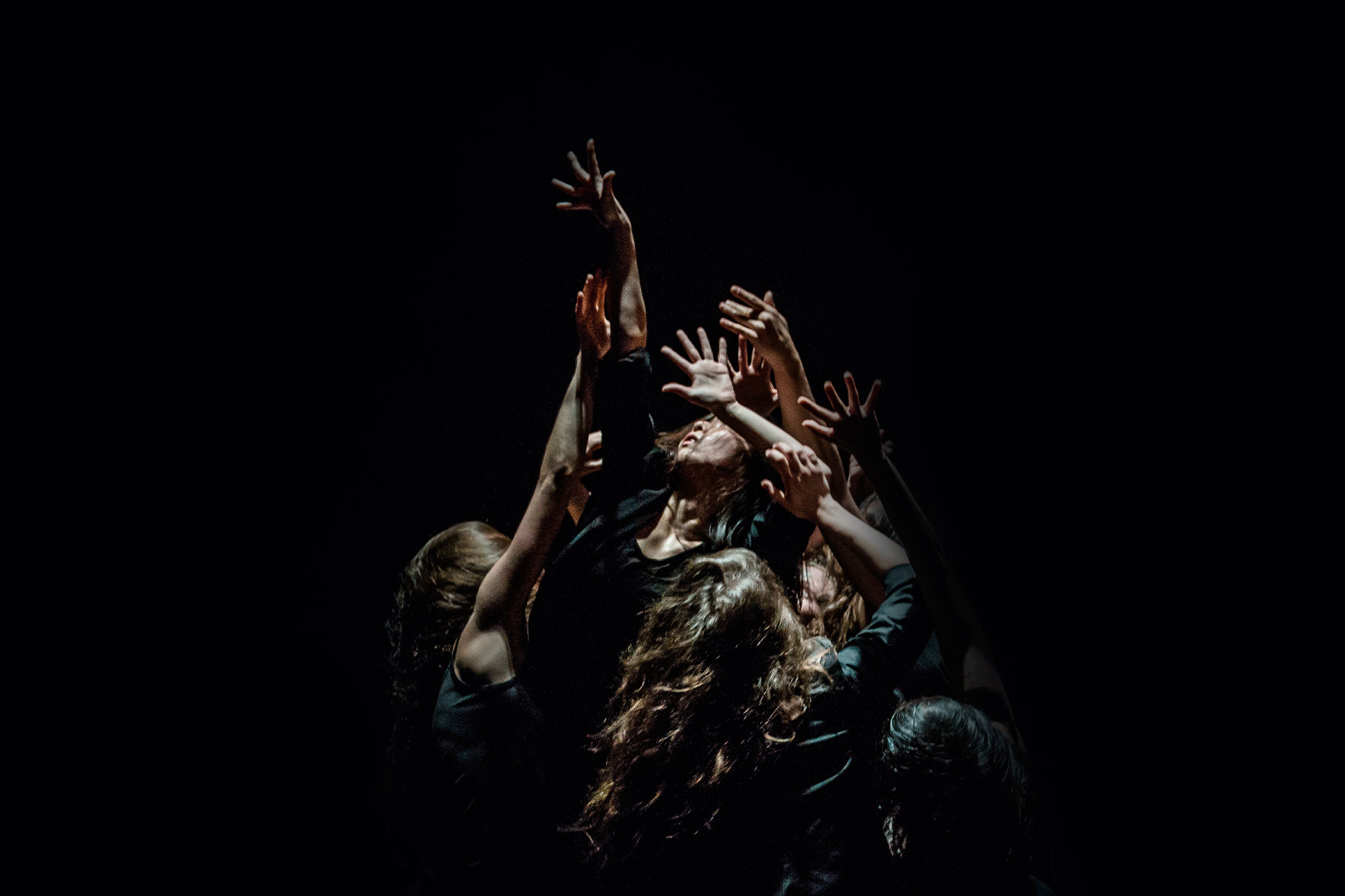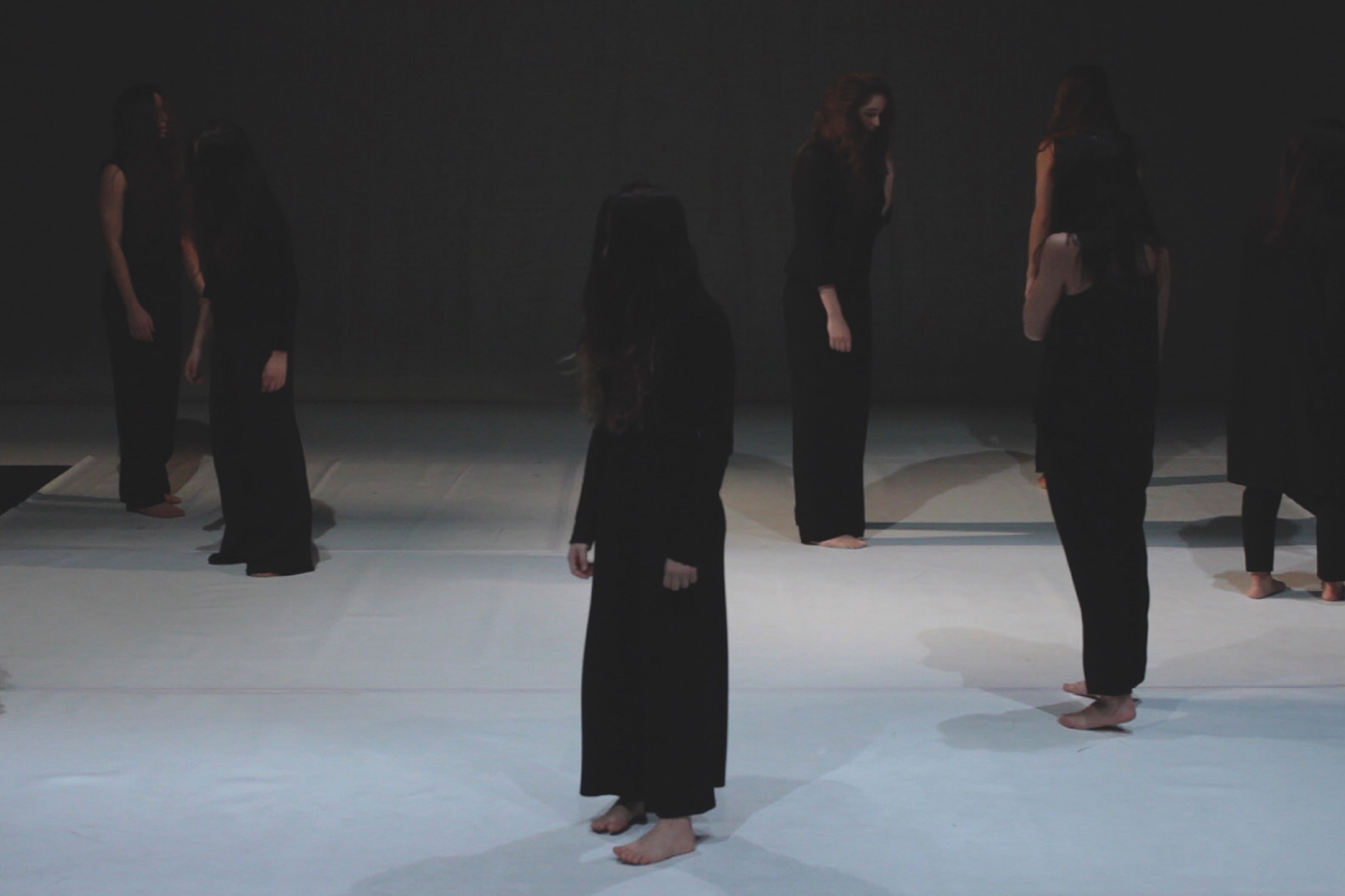 Supernatural beings who are shot from smokeless fire, also known as "Djinn". The term "Djinn" is derived from Arabic and can be translated with the synonyms "demon" or "spirit". "Dschunna", the origin of the word "Djinn" means obsessed, insane.
Believing in the existence of Djinn is a major part of the Islamic faith, but its relevance to Islam is being discussed even in traditional circles, and Djinn belief is thus somewhere between fairy tale, superstition, and religion. The well-known in Islam and in Arab mythology named Djinn is called 'Iblis'.
In contrast to angels, djinn have a free spirit, first given by God, in mythology. This free spirit not only removes them from God, but also causes discrepancies, which cause the djinn to war on earth. Iblis, however, does not see himself as a djinn, but as an angel shined by God and decides with his free spirit to join God and his angels. Iblis gains the trust of God, until the day when God shakes Adam, one who, unlike the djinn, can save peace on earth. Since Iblis sees himself as a ruler and protector of the world and does not approve of the appearance of a human being, the trust between God and Iblis breaks down with the birth of Adam and Iblis is sent to earth together with Adam from the kingdom of heaven. To this day, Iblis is to stay with his jealousy and his anger on earth. In order to return to God's level and take his place as ruler, Iblis seeks to take possession of all humans, starting with Adam, to occupy their minds and drive them insane.
The performers and the choreographer of "Djinn – Under the shadow" are dealing with the mythology of the Djinn, which drives you crazy with the fight between the occupier and the obsessed. For this, Hareket Dance has created its own 'white' platform, which reflects the pure earth, the base, the unfinished spirit of man, occupied by the Djinn.
Powerful movements symbolize the struggle between human and superhuman. An abstract scene construction lets the actors as well as the audience feel the oncoming madness. Well, who of us is so insane, bad, excellent, in a good mood, or obsessed somewhere?
Concept, choreography and contact: Hakan Sonakalan
Group 1 – Dancers: Sophia Otto, Momoe Kawamura, Elisa Spina, Ludovica Pinna,
Narumi Saso, Pin-Chen Hsu, Francesca Pavesio, Leonie Türke

Group 2 – Dancers: Sophia Otto, Stella Kolodzey, Elisa Spina, Lisa Grandmottet,
Momoe Kawamura, Enora Gemin, Yurika Sophie Yamamoto

Music, composition: Gavin Cullen – Djinn, Rania – Cycle of Life, maNga – Hos Geldin, Raime – Your Cast Will Tire
Duration: 20~ mins
Genre: Dance, Performance